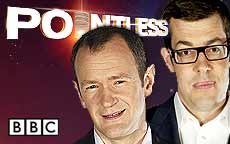 I just love Pointless, the BBC Quiz show, where contestants have to show they know more than an audience by answering questions, obscurely, to obtain low scores. The final question requires that the contestants find an answer which none of the audience has mentioned. The hosts, Alexander Armstrong & Richard Osman do their best to make the contestants welcome,  it's a really gentle atmosphere, teams get two chances to play so if they're very unlucky with the questions they don't feel badly treated, the prizes are typically British quiz show, and the contestants have been  polite to each other, with losing teams often congratulating their victors. In order to win you need to know a lot, understand the tactics of the game, and have a lot of luck. Part of the fasincation in watching the show is to test how much of these factors you have yourself, aided by the fact that they show you the answers to the questions, and the scores they obtained.
In the final round, a question is posed and to win, the final team has three chances and 60 seconds to find a pointless answer. These final questions can have many answers, for instance, they have asked
John Grisham Novels
Booker Prize Winners
Keanu Reeves films
Thatcher's Cabinet Ministers (pointless…ho ho).
Labour female MPs elected in 1997
I suddenly realise I have never seen a final geography question.
However, they are missing a trick, while the presenters, Alexander Armstrong and Richard Osman, in particular, make sterling efforts to involve the home audience, the recap of the answers, is always too short, and often incomplete. It seems that 75 of the Labour female MP's were pointless and this was too many to show. (I reckon I got two!) That's what the internet's for, Dudes. They must also have some questions that they don't use.  I'd have thought a "join in" online page at the BBC site would be awesome, it might have to be published after the episode goes off line, but they do it for "Only Connect". If they hosted it inside the bcc player site they have the social network infrastructure in place, they could even offer an online competition with other fans. The number of comments on Osman's Blog show how big an appetite for chat about this there is.